Gondola Section Components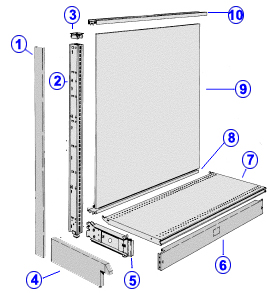 1.Plastic Upright Cover
2.Basic Upright
3.Plastic Upright Cover
4.Base Shoe Cover
5.Base Shoe
6.Kick Plate
7.Base Shelf
8.Lower Spanner
9.Back Board
10.Upper Spanner
---
Basic Upright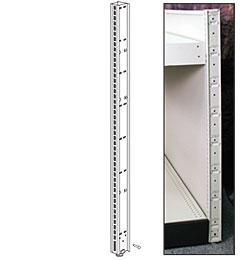 Slotted 1" on centers for flexibility plus maximum space
Engineered of heavy gauge, high tensile steel components welded into a single unit with a 15,000 inch pound rating
All Basic Uprights have an integral leveler
Kickplates of either closed or open type or reinforced base shoes must be installed on shelving runs
---
Sold Separately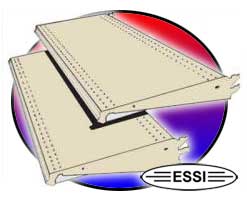 Upper Shelves available in two inch increments starting at 8 inches to 30 inches deep. Widths of a standard 36 inch and a 48 inch stocked in the beige black and dove gray colors. 24 inch and the 30 inch available by special order.
Available in all standard finishes, optional finishes, and custom paterns also.
Smaller shelves sit at a 15 degree up slope, flat and a 15 degree down slope. Besides the flat position the downslope position is best for snacks, chips, and candy with a 3 inch high front fence or a one inch high front retainer. The deeper shelves sit at a 15 degree and 30 degree up slope, flat and a 15 degree and 30 degree downslope
---
Base Shoe

Projection welded high tensile steel gives maximum load capacity
Exclusive "I" beam design is 5" low, with easy-in "POSI-LOK" feature for quick no-error installation
Screwdriver leveling and electrical access
Either closed or open kickplates must be installed in Base Shoes on shelving runs
---
Spanners

Top Spanner "Snap-in" spanner secures uprights at equal spacing, traps back panels and trims top of section


Center Spanner Galvanized "snap-in" spanner assures back panel rigidity


Splicer Spanner joins two back panels in sections 78" and above.

Lower Spanner
"Snap-in" spanner secures uprights at equal spacing and supports back panels
---
Wire Shelves for a Convenience Store

Heavy gauge steel wire construction, powder coated for long life and extra wear constructed for Potato Chips in a Grocery Store, Candy, Bed Linen, and more.
End Components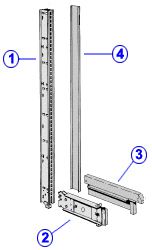 1.Basic Upright
2.Base Shoe
3.Base Shoe Cover
4.Plastic Upright Cover
---
Base Shelf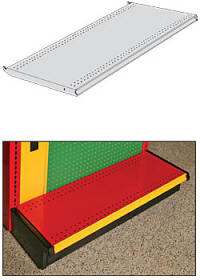 Formed price tag molding matches molding on upper shelves (see SUS)
Heavy-gauge shelf bracket features lock tab to ensure quick installation and precision alignment
Load capacity 600 lbs in all sizes, based on evenly distributed static loading
---
Freestanding Wire Binning System Front Fences and Dividers for Store Shelving allows the flexibility in merchandising of smaller and lighter products. The fences and dividers for store shelving have welded on "feet" for attachment to shelf perforations on upper shelves. Fronts and Store Shelving Dividers may be used independent of one another to divides a shelf into sections of bins.
Vertical wire are on 1" centers. Chrome plated finish.
---
Gondola Trim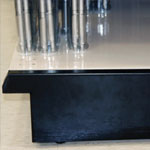 Base Shoe Cover
Complete the floor level "finished look" from Kickplate to Upright on each Maxi Line run.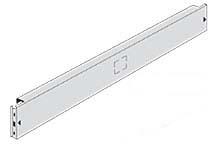 Kickplate
is the trim piece on the lower front of the shelving unit.
Standard color is either black or chocolate.
---
Backboards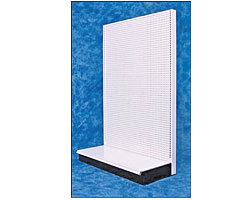 Backboards available in pegboard and hardboard standard. Optional backs are slatwall, mirror, grid, and slatgrid.
78" gondolas or higher require a two piece back configuration.
---
Upright End Cover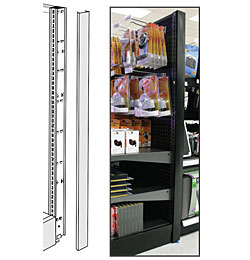 Extruded plastic cover trims off end Upright of all runs.