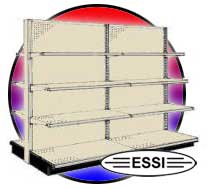 The picture above depicts a 8' double sided gondola configured with two sections and one end that includes: all the trim pieces such as front kick plates, base shoe covers, and upright covers.
The double sided sections are designed to be placed in the center portion of the merchandising floor and can be used to separate the store and aisles.
We have double sided sections available in depths as small as 12" and as deep as 30" with heights that start at 36" up to 96". Floor anchors are suggested and available for all heights above 48". Check with your contractor, city and county building codes.