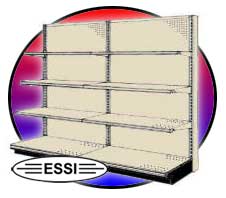 The picture above depicts a 8' single sided section of Wall Convenience Store Shelving configured with two sections and one end that includes: all the trim pieces such as front kick plates, base shoe covers, and upright covers.
The single sided sections are designed to sit flush against a wall as the wall will provide support and stability.
We have single sided sections available in depths as small as 12" and as deep as 30" with heights that start at 36" up to 96" and above with what is known as extension uprights. Wall anchors are suggested and available for all heights. Check with your contractor, city and county building codes.